Opportunities don't just end at College – we encourage students to get involved in external competitions to gain more experience and stand out from the crowd!
Textiles was always Eve's favourite subject at school, and she knew it was something she would enjoy doing. Eve thought the course at Eastleigh College would be a great way to gain the skills she needs to study Fashion Design at University, before getting a job as a Design Assistant and maybe even launching her own Fashion Design company one day!
Most of the women in Eve's family love crafts and sewing, so Eve picked up a lot of these skills from a young age. When she was younger she used to making clothes with her bears and attend craft workshops with her mum, and was always making things outside of school.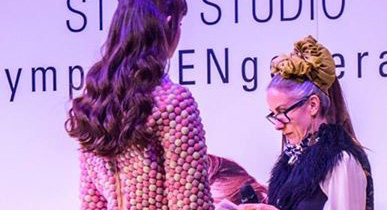 Eve found that she excelled at more hands-on subjects such as Art and PE, and wasn't very good at writing essays. One of the first things Eve noticed when she started College was how different the course was to what she had studied at school – she really likes taking responsibility for her own projects and being able to manage her own time.
During the summer holidays, Eve researched fashion and textiles competitions she could take part in to gain extra experience in working to a brief. She came across the Clothes Show Live Young Designers competition and decided to take part. The competition involved designing a dress a blogger could wear during London Fashion Week.
Eve was ecstatic when her design was shortlisted as a finalist – she spent the next few weeks making the dress for a model to wear on the catwalk during the Clothes Show Live. Eve's design was exhibited alongside work by graduate and professional fashion designers – an incredible achievement for a Further Education student!
I feel like I'm thriving at Eastleigh College. I found my niche as soon as I came here, and I'm so proud of what I've achieved so far.
Eve is pleased she chose to study at Eastleigh College. She originally decided to go to a Sixth Form College with her friends, but after coming to Eastleigh College's open evening she fell in love with the facilities.
She said, "You are nourished and developed here at Eastleigh College. Doing a course like this means you can focus on one thing rather than have to work on several different A levels. You can breathe Art here."
Eve has worked hard to prove she is committed to her studies and wants to excel in the Fashion Industry. Taking part in competitions or gaining work experience are both great examples of ways students can stand out from the crowd – the lecturers at Eastleigh College are very supportive of all their students and are happy to help in whatever way possible.
To find out more about our Art, Design and Media courses, please visit the career page.