Student awarded apprenticeship opportunity with AMG Mercedes
Representatives from AMG Mercedes High Performance Powertrains (HPP) recently came to Eastleigh College to award a talented student with the prestigious 'Engineering Student of the Year' award.
 The award was given to 17 year old Harrison Long from Winchester, who is studying a Level 3 Extended Diploma in Engineering. Harrison commented, "I'm so happy to have been chosen for the Award, I've always been interested in Formula 1 so this is an amazing opportunity for me". 
The award is available to students from select colleges across the country, and is given to the highest performing Engineering student in their first year of study. The winners receive a £500 prize, a week's work experience, and are fast-tracked to interview stage for an Apprenticeship with HPP.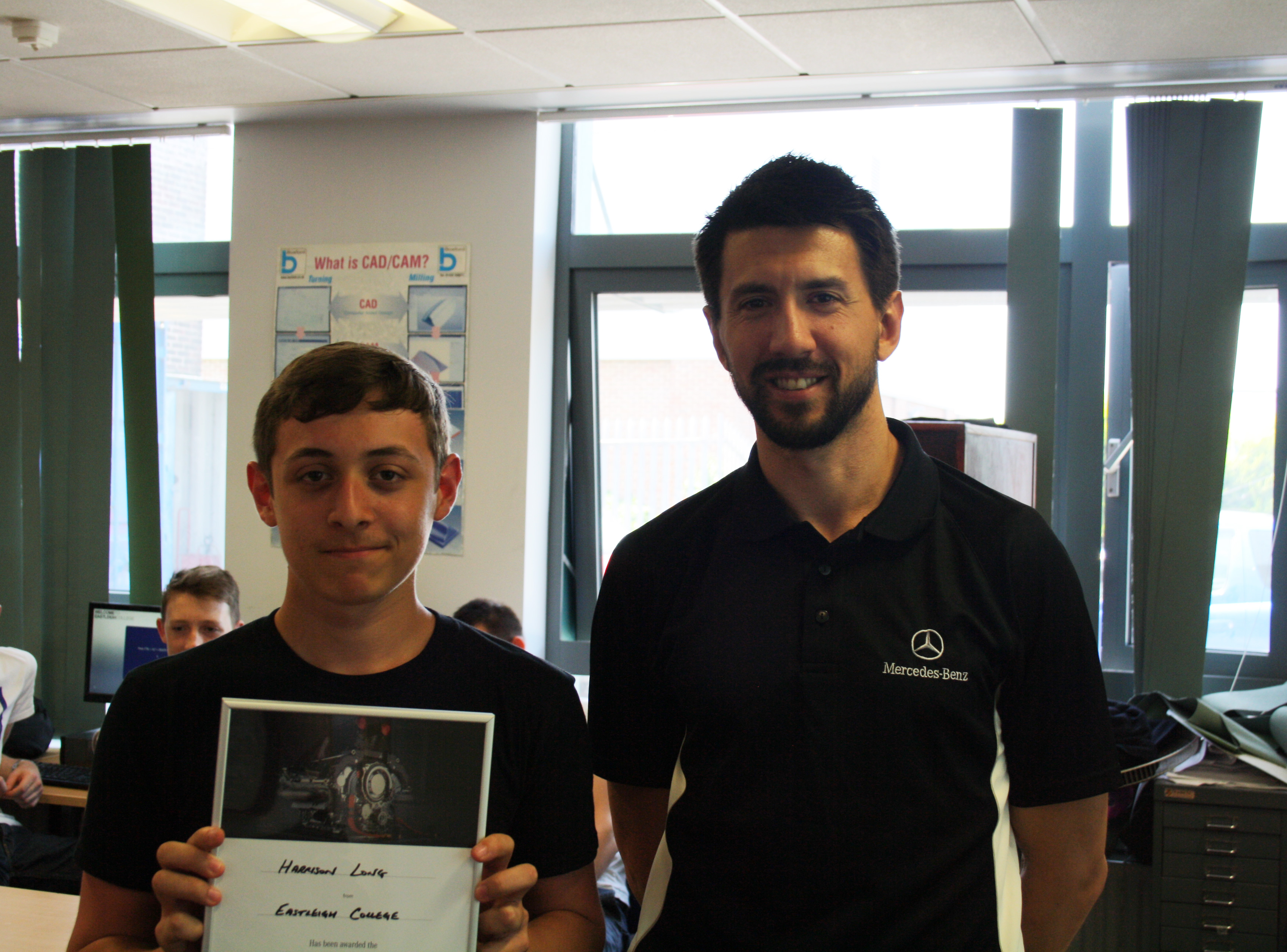 On the day, HPP gave the students an insight into their current technology, focusing on the blend of mechanical and electrical engineering used to create their Formula 1 hybrid power unit. They also explained the opportunities available to Eastleigh College students looking to join their Apprenticeship scheme and gave some helpful advice on what makes a successful candidate.
Stuart Boyer, Employee Development Manager at HPP said "Our apprentice programme is a critical part of our workforce strategy, ensuring we continue to grow the highly skilled people we need to keep us on the top step of the podium. Congratulations to Harrison for both his grade achievement and the attitude he has shown during his studies. He now has a great chance to secure an Apprenticeship with us and begin his engineering career in Formula 1".
 This is the second year HPP has presented the award at Eastleigh College, and it is a great opportunity to inspire and reward the students for achieving excellent grades and having an enthusiastic attitude for their subject. 
To find out more about the Engineering courses available at Eastleigh College, please click here or call our Information, Advice and Guidance Team on 023 8091 1299.