KNOWHOW, part of the Dixons Carphone Group, celebrates Eastleigh College success!
In partnership with Eastleigh College, KNOWHOW, part of the biggest consumer electronic and white goods retailer in Europe, recently celebrated the success of its employees who have trained through the Colleges state-of-the-art Gas Assessment Centre.
The Dixons Retail Group consists of Currys, PCWorld, KNOWHOW, Dixons Travel and the Carphone Warehouse. The group identified a training opportunity within their dedicated service brand 'KNOWHOW'. This division of the award winning company is responsible for the delivery, installation and repair of electronics and white goods products across the whole of the UK and Ireland.
KNOWHOW colleagues have installed over 100,000 gas cooking appliances in the last year and demand looks set to continue. KNOWHOW has forged a successful partnership with the College over the last 7 years, after the business sought further expertise from Eastleigh College in order to deliver a high quality range of Gas training courses for their installers.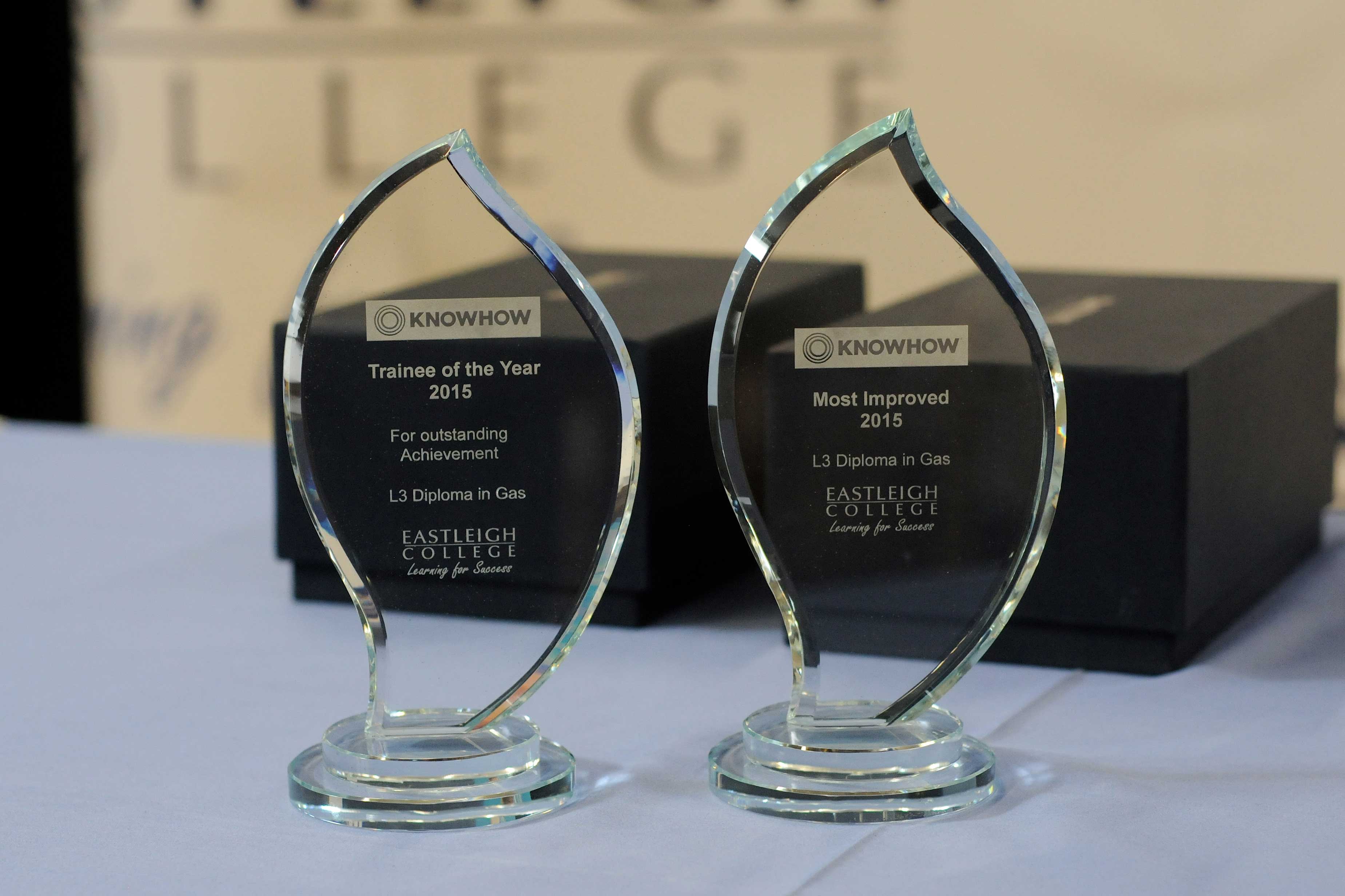 Recognising the benefit of this new-found expertise, the company put on an awards event at Eastleigh College to celebrate the success of its employees and their commitment to the trade. Some participants travelled from as far as Scotland to be part of the Eastleigh College training programme. Award categories included 'most improved' and each colleague was presented to by Stewart Potts, Head of Field Operations at KNOWHOW.
Stewart said "It's been a great afternoon and an excellent opportunity for us to recognise how far each individual has come with the help of Eastleigh college. It is great to see our colleagues complete the course and increase their technical skills to become qualified. We have worked with Eastleigh College for over 7 years and they have continued to grow with us and our business; we look forward to working with them in the future." 
Commenting on the achievements of the KNOWHOW colleagues, Paul Smoker, Technical and Installation Manager, commented "By combining the education skills of the Eastleigh Team and the 'on job coaching, mentoring and assessing', offered by KNOWHOW, where all Trainees are required to build a substantial 'Experience Portfolio', I am assured that our Knowhow Gas Trainees are not just educated but additionally armed with an enviable level of experience to support their NVQ / QCF Qualification".
Jan Edrich, Chief Executive and Principal at Eastleigh College also added "The Gas Assessment Centre team go above and beyond to fulfil the needs of their industry, and this event showcases how valuable it is to the employers we work with."
For more information on the range of gas courses offered at Eastleigh College's BPEC registered Gas Assessment Centre please visit our careers page.