Kaine wins Bronze at SkillFridge final!
Kaine Finlay, Eastleigh College Refrigeration and Air Conditioning Apprentice, was awarded Bronze at the National SkillFridge competition last week.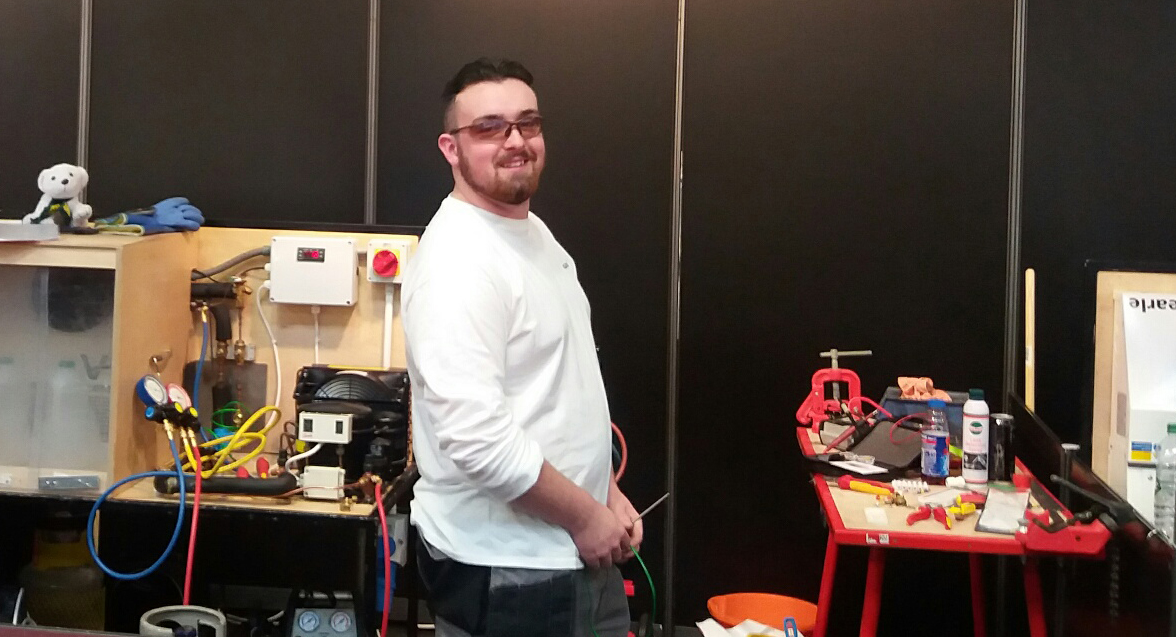 This year's SkillFridge competition was held during the ACR Show in Birmingham, and saw six Refrigeration and Air Conditioning students from all over the country compete for a place in the WorldSkills final.
Kaine battled it out against his competitors over an intense two-day task, which involved fabricating pipework from a condenser to an evaporator, making sure that components were placed in specific places, as well as electrical and pressure testing and commissioning the system.
Kaine was thrilled to be awarded Bronze at a national competition. Commenting on his experience, he said: "This has been the best part of my Apprenticeship so far. Being able to go to the ACR Show and be involved in something important in my industry was amazing."
"The competition was entirely different from my Apprenticeship because I'm usually involved in maintenance rather than installation, so it made me realise what I can achieve."
SkillFridge is part of the wider WorldSkills competitions, where young professionals in further education and Apprenticeships can flaunt their talents and grow confidence in their abilities in local, regional and national competitions. Kaine was originally chosen to compete in the regional finals back in October 2015, and was chosen by the judges to continue on to the next stage of the competition. He was supported by previous Eastleigh College student and competitor Steven Burge, who took part in the WorldSkills final in Leipzig in 2013.
 Taking part in competitions such as WorldSkills is a great way for young people to demonstrate their passion and commitment to their trade, and to grow in confidence in their skills. It encourages them to be ambitious and work hard towards their chosen career, and be rewarded for their efforts along the way.
Kaine added, "It's been an eye-opening experience, and having this on my CV is going to make me stand out from the crowd in my career."
To learn about the Refrigeration and Air Conditioning courses on offer, please visit the careers page or call 023 8091 1299.