Greg Clark MP visits Eastleigh College
Last week Eastleigh College hosted an exclusive visit from Right Honourable Greg Clark MP, Secretary of State for Communities and Local Government. The Conservative MP for Tunbridge Wells visited the College to see the progress of the College's £12.4 million redevelopment project.
The project is one of the first major projects to receive financial backing through the Government's Local Growth Fund from the Solent Local Enterprise Partnership.
R.T Hon Greg Clark MP saw the construction underway on for brand new teaching facilities for Hair and Beauty and Art, Design and Media, and the plans for a new Advanced Technology Centre. Mr Clark also took the opportunity to meet with Technology and Construction students studying at the College.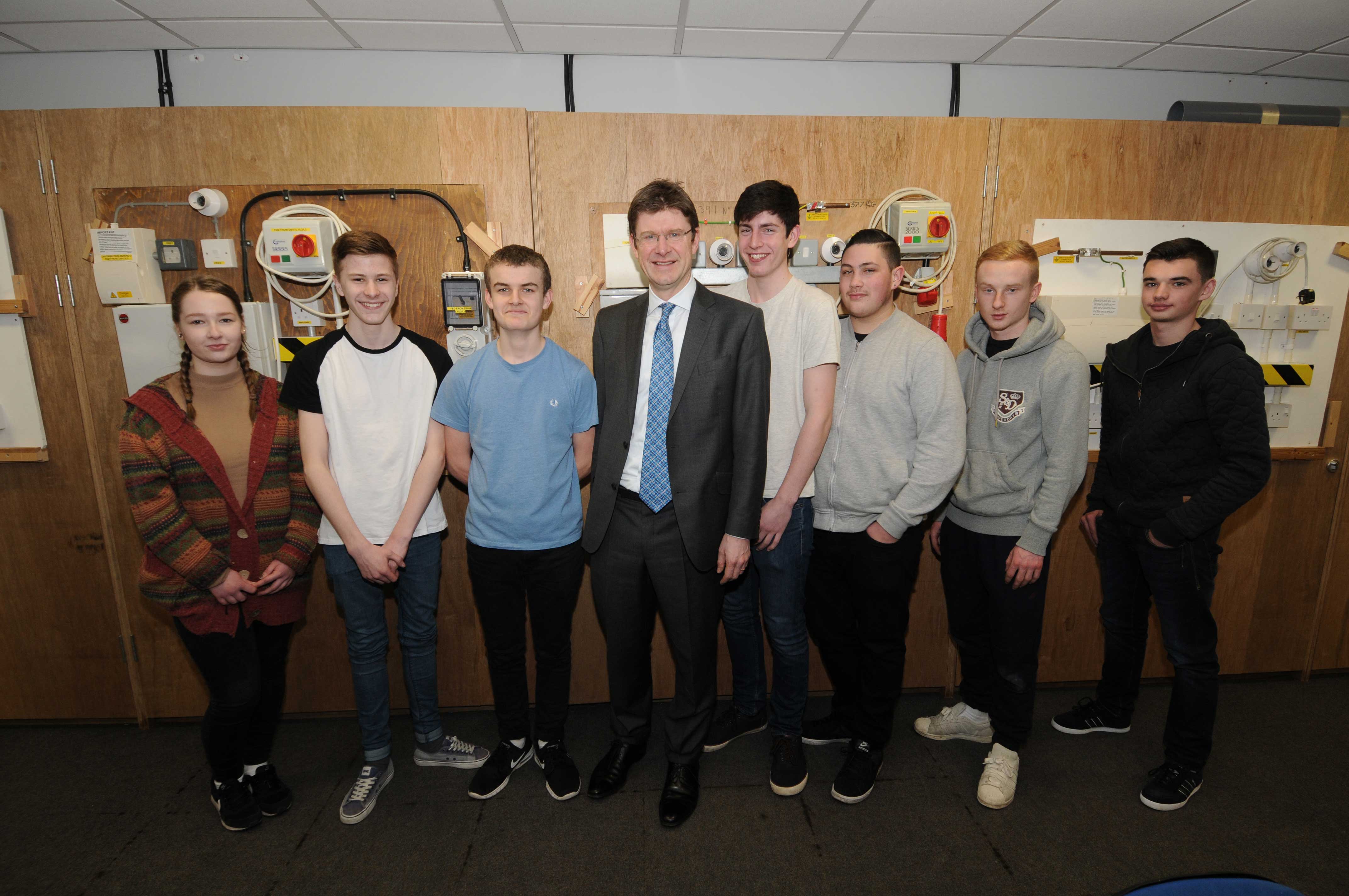 Jordan studies Mechanical Engineering at Eastleigh College, and enjoyed the visit, "It was really exciting talking to the MP about the work we do at College and what we want to do in the future."
Ellie, who also studies Mechanical Engineering, said "It's good that more people are starting to focus on technology subjects and more opportunities are being created for us. I'm looking forward to being able to use the new facilities that will be available in the Technology Centre."
The Redevelopment project introduces advanced level training facilities that will be aimed at both local businesses and individuals, helping local employers and providing opportunities for young people and adults to gain the latest industry skills in state-of-the-art facilities.
R.T Hon Greg Clark MP was impressed with the progress of the project and what it aims to achieve: "It's tremendously exciting; it's great to see an investment on paper turned into practice. It is a fantastic facility for future generations of students. Workplace skills are hugely important, and what we see here are students learning fantastic skills that will prepare them for a rewarding and stimulating career."
"Commenting on his time spent with the students, he said "It's always great to speak to students. They were all optimistic and ambitious, and will all be real assets to the employers that take them on."
Jan Edrich, Chief Executive and Principal at Eastleigh College, "We are delighted that the Secretary of State has been able to see first-hand the new facilities being developed here at Eastleigh. The investment is critical to ensuring that the Solent's future workforce have the STEM skills our key growth sectors will need. Working with our partners at the LEP we have been able to greatly accelerate the delivery of this investment on the ground. Our students are already benefitting from the upgraded facilities and we are looking forward to opening the first of two new buildings to students later this year."
Gary Jeffries, Solent LEP Chairman, said, "Getting people with the right skills is absolutely critical to Solent businesses and, if our companies do not have access to a world class workforce in the future, we will see productivity drop, innovation grind to a halt and jobs move elsewhere. This investment is all about protecting the future of our economy for the benefit of our businesses and local workforce."
We will continue to share details of our Redevelopment project on our website and social media, so please do come back to find out more!