Constructing careers on new teaching block site
This week a group of Level 4 Construction and Built Environment students were given the exciting opportunity to visit the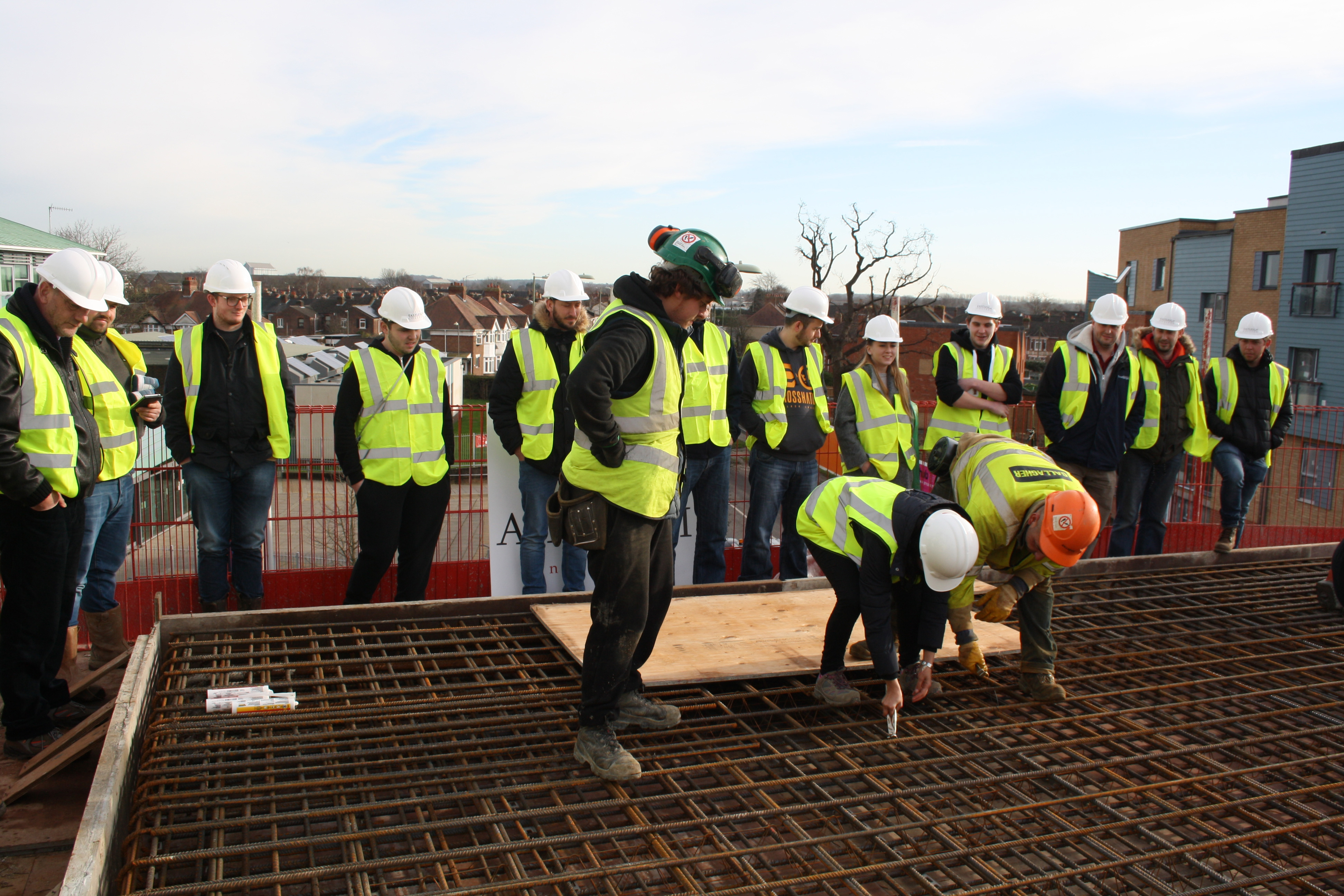 construction site on which Eastleigh College's new teaching block is currently being built.
Amiri Construction gave the students a tour of the three levels of the building in progress, and explained the different building methods used. Students were shown the location of the stairs and lift shaft in the layout, while Andrew McArthur, Project Manager, explained the techniques they had used to lay the concrete on each level.
The students were even allowed to put their skills to use by getting involved in tying cross members of reinforcement bars, which ensures that the strength of the structure is increased before concreting.  
The site visit was an excellent chance for the students to see a working construction site, and for many this was a rare opportunity. Pearl Tee, Construction and Built Environment student and Trainee Project Manager/ Surveyor at Eastleigh Borough Council, commented. "It was very interesting; I haven't had many site visits so it was useful to see how my coursework relates to a real work site."
Pearl added, "I have read about a lot of the techniques they've used, but I never really understood. Now that I've seen it in practice, I have a much better understanding. I'd love to do more visits like this."
Student and Trainee Site Manager at Brymor, Joe Nash, works on similar sites on a daily basis but still benefited  from the experience: "I really enjoyed the visit. The best part was being able to compare it to the sites I've worked on. I've also seen some systems in place that I've never used before, so now if I ever come across them I'll have a basic understanding of how they work."
To visit a construction site, especially one closely linked to the College itself, was a fantastic opportunity for the students to gain a better understanding of construction methods and practices.
The visit coincided with news that Eastleigh College has been given planning permission to build its new technology teaching block just behind the current construction site, so we expect the next few years to be exciting times for our Construction and Built Environment students!
To find out more about the Construction and Built Environment courses offered at Eastleigh College, please visit our careers page.